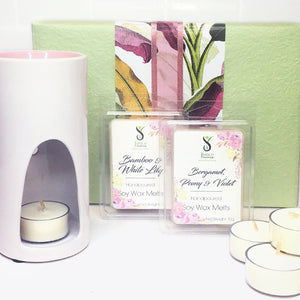 CHOOSE YOUR 2 SCENTS FROM THE OPTIONS ABOVE
Jooce Ceramic Burner & Melts gift pack has everything you need to start your Soy wax melt journey.
Included in the gift box is:

1    x   Ceramic oil burner
2   x   Blocks of 6 soy wax melts, ten scents to choose from
6   x   Hand-poured unscented tea light candles

To use, simply break a cube off wax melt block and place it in the top of your melt burner. Light an unscented tealight in the placeholder beneath to release your beautiful chosen fragrance. Once the fragrance has evaporated (approx. 6 hrs), you should change your wax melt.