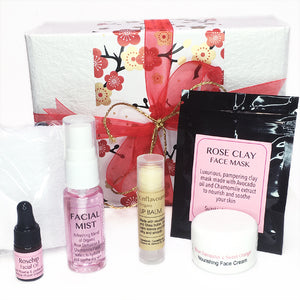 Treat someone special to a luxury facial they can enjoy in their own home, full of natural goodies to pamper and rejuvenate. Enough product for 2-3 treatments

CONTENTS
Rose Clay Face mask  - 20g resealable sachet
Packed with goodies to nourish and cleanse, helps unclog pores and stimulates the blood circulation to promote a toned, younger complexion The perfect treat for dry, dull skin or when you just need a little pampering.

Rosehip Facial Oil 3ml
The perfect pick-me-up for skin needs a little extra hydration. Made with Organic Rosehip & Jojoba oils with Calendula infused Grapeseed oil to nourish and moisturise. You only need 2 to 3 drops after cleansing, before moisturising or under make-up for smoother, glowing skin.
Rose Damascus and Sweet Orange, Nourishing Face Cream - 20g
Light, fresh scent of Rose Damascus organic floral water with Sweet Orange and Bergamot essential oils.
Natural soothing blend of nourishing Evening Primrose, Rosehip, Jojoba and Apricot oils, enriched with Hydrolised Oats and Vitamins A,B and E.
Facial Mist - Rose Damascus & Chamomile - 20ml
Refreshing blend of Organic Rose Damascus and Chamomile Floral waters to hydrate and soothe dry skin.
Lip Balm - Unflavoured (Vegan)
Made with nourishing Cocoa and Shea Butter, leaves you lips hydrated, silky and smooth

Toweling Headband