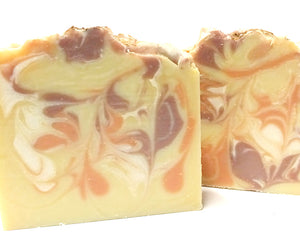 Exotic, warm, woody and slightly spicy; soothing, sweet mandarin essential oil with sandalwood and clove with a light dusting of sandalwood powder
Jooce Handmade soaps are made the old fashion way; from scratch, in small batches with the finest food grade oils using the cold process method, then left to cure for eight weeks.
All soaps are made with 60% olive oil to create a soap with a wonderful creamy lather that is gentle, moisturising and cares for your skin.
Jooce soaps contain no animal fats, are free from preservatives and harsh detergents and are rich in natural glycerin.
Ingredients: Saponified plant oils (olive, coconut and sustainable palm oil), water, essential and fragrance oils, sodium lactate, beeswax, colours and sandalwood powder
Note: Colours and Swirl patterns will change slightly from batch to batch as these are all handmade in small batches.