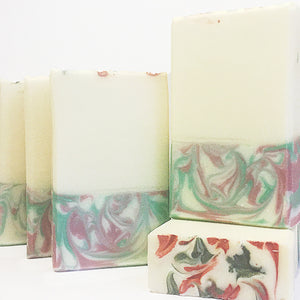 The fresh, brisk scent of peppermint, with just the right amount of sweet cream and vanilla to make the mint sparkle for the holidays
Jooce Handmade soaps are made the old fashion way; from scratch, in small batches with the finest food grade oils using the cold process method, then left to cure for eight weeks.
All soaps are made with 60% olive oil to create a soap with a wonderful creamy lather that is gentle, moisturising and cares for your skin.
Jooce soaps contain no animal fats, are free from preservatives and harsh detergents and are rich in natural glycerin.
Approx 130-140g
 
Ingredients: Saponified plant oils (olive, coconut and sustainable palm oil), water, fragrance oil, sodium lactate, beeswax, mica, titanium dioxide