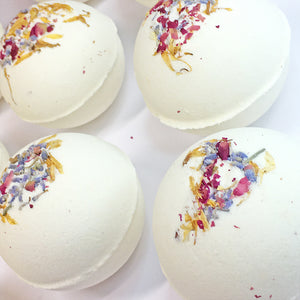 Uplifting Bath Bomb are made with a rejuvenating, uplifting blend of aromatherapy grade essential oils

Relax in a warm bath and let the skin loving cocoa butter, apricot oil and Kaolin clay soften and condition your skin, leaving your skin feeling, rejuvenated and smelling wonderful. This bomb will fizz and bubble in the tub, decorated with dried rose, lavender and calendula petals. For a home spa feeling.

Place the bath bomb gently in a bath of warm water, step in and enjoy!
5cm approx 110g

Ingredients: Bicarbonate Soda, Citric Acid, Cornflour, Buttermilk Powder, Coca Butter, Cream of Tartar, Sodium Lauryl Sulfoacetate (SLSa, a mild foaming agent which is vegetable derived and conforms to Ecocert's cosmetic standards)), Kaolin clay, CocoBetaine, Polysorbate 80, Apricot OIl, Rose Geranium, Patchouli, Lemon Myrtle, Lavender, Peru Balsam, Petitgrain, West Indian Sandalwood and West Indian Lime Essential Oils, Petals